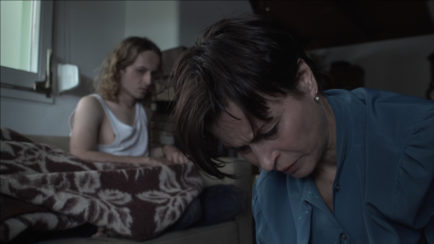 Mother
Małgorzata – an important politician – goes to her house by the lake. Her son, who is a drug addict, needs help. Małgorzata asks her daughter for support.
2013 | Feature film directed by Łukasz Ostalski
When they arrive to the house they find half-conscious boy and a young girl. In the face of tragedy, their relations get complicated, revealing hidden grudges. The mother has to make the most difficult decision in her life.
Directed by: Łukasz Ostalski
Written by: Łukasz Ostalski
Director of photography: Sławomir Witek
II Director: Elżbieta Benkowska
Sound postproduction: Marta Olko
Casting director: Sylwia Czaplewska
Sound: Marta Olko, Magdalena Kasperek, Igor Szymański
Location manager: Artur Hutnik
II Location manager: Adam Cybulski
Make-up: Weronika Piechota, Marzena Furmanek
Costume design by: Aleksandra Przyłuska, Małgorzata Grześkiewicz
Camera assistant: Marek Zwara
Location secretary: Elżbieta Benkowska
Location assistant: Łukasz Laskowski
Editing: Łukasz Ostalski
Graphic project: Paulina Szpaczyńska, Marta Grabicka
Graphics: Irena Siedlar
Digital effects: Irena Siedlar
Colourist: Andrzej Tomczak
Production manager: Joanna Pultyn
Artistic supervision: Sławomir Fabicki
Screenwriting supervision: Grzegorz Łoszewski
Producer: Leszek Kopeć, Jerzy Rados
Cast:
Mother: Danuta Stenka
Ola : Magdalena Czerwińska
Robert : Rafał Fudalej
Girl: Paulina Szostak
Grandmother: Teresa Wierzbowska
Duration: 30 min