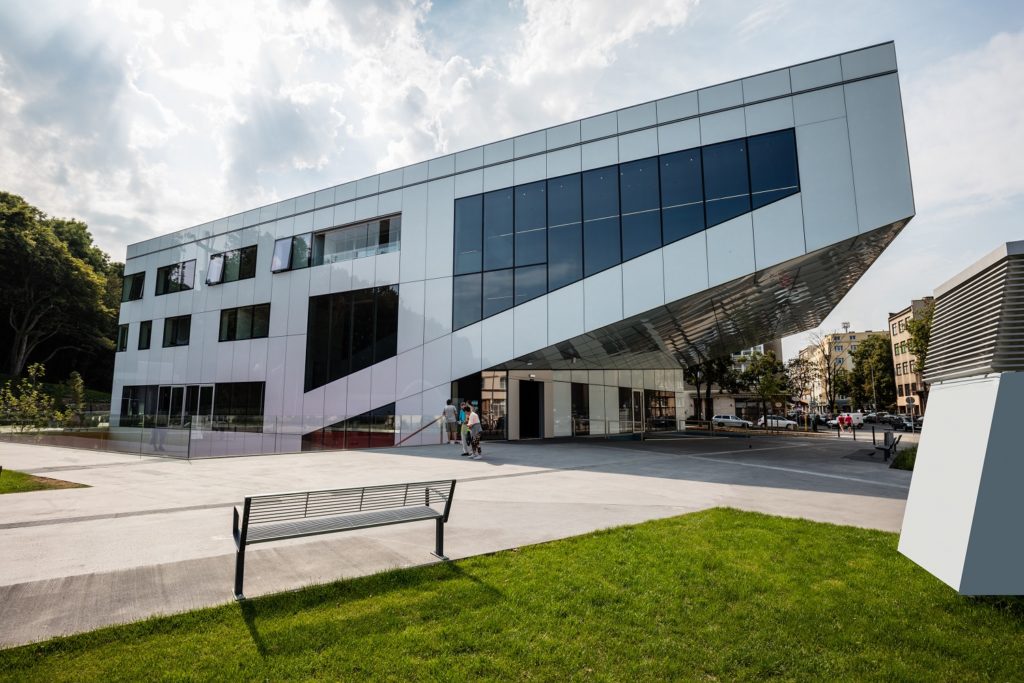 Gdynia Film School – Post-Secondary Nonpublic Film College was founded in January 2010 as an idea of the Mayor of Gdynia – Wojciech Szczurek, Leszek Kopeć – the Director of Polish Film Festival in Gdynia, Robert Gliński – the Rector of the National Film School in Łódź and Jerzy Rados – the originator and the executor of the Pomeranian Film Workshops. On 1st October 2010 the first film school in Northern Poland began intensive classes, seminars and lectures on the 2,5-year course in the Department of Directing. One semester includes up to 700 hours of classes. The mission and primary objective of GFS is a reliable, thorough and professional education of new directors of feature films and documentaries, aware of their profession. Teaching major subjects is based on practical classes. Necessary theoretical lectures provide a starting point for a series of classes, workshop rehearsals and realisation of scenes and film shorts. Classes in small groups enable individual work and direct, essential contact with a lecturer. Each student of Gdynia Film School will direct two short films: a feature film and a documentary.
Gdynia Film School is a modern educational project, inspired by other film school curricula popular among film education systems in the U.S., Great Britain, Denmark and Norway.Contemporary film director must be a thoroughly educated professional and … a creator!
GSF curriculum includes, among other subjects:
Directing a feature film
Working with an actor
Directing a documentary film
The art of cinematography
Screenwriting
Film editing of a feature film and a documentary film
Sound and music in a film
Photography
History and aesthetics of a feature film and a documentary film.
The author of GFS curriculum is an internationally recognised director
Robert Gliński.
Classes and practical activities, lectures, seminars, artistic care and individual consultations are carried out by experienced lecturers, distinguished filmmakers, including: Mirosław Bork,
Sławomir Fabicki
,
Milenia Fiedler
,
Robert Gliński
,
Paweł Huelle
,
Andrzej Jaroszewicz
,
Krzysztof Kornacki
,
Grzegorz Łoszewski
, Filip Marczewski,
Kamil Przełęcki
,
Mirosław Przylipiak
,
Sławomir Pultyn
,
I
rena Siedlar, Leszek Starzyński.
Gdynia Film School is a non-commercial educational project. Students do not pay any fee.
The main patron of the school is the city of Gdynia and Energa – Orlen Group.
The organizer of GFS is Pomeranian Film Foundation in Gdynia, the executor of Polish Film Festival and Pomeranian Film Workshops.
The priority of Gdynia Film School is to maintain the highest, world-class level of education.