Artur Tomczak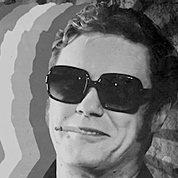 Musician, actor, film director. Born in Gdynia in 1969. In 2004, he shot his first film entitled "Kolia Księżnej Romanowej" which very soon gained great popularity.
Half a year after its premiere screening in SPATIF in Sopot, the film was broadcasted on TVP 2 programme. In 2005, it won 3rd prize at the 9. "Off Cinema" International Film Festival in Poznań (the chairman of the jury was Feliks Falk).
As a musician, Artur Tomczak was a member of such bands as Phonoplasma and Afropol. He played concerts together with such stars as Blenders, Maanam, Kazik, Myslovitz. Currently he works as a music presenter in a famous club SPATIF in Sopot.
Artur Tomczak has directed three film episodes about Walczak the Engineer. In all of them he plays the main character.
Artur Tomczak is also the producer and director of a few theatrical spectacles.