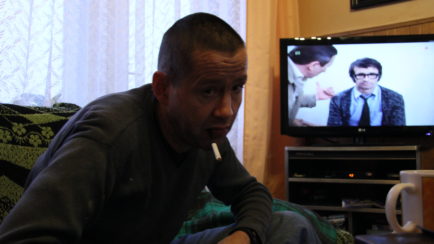 Marian
The main character of the film is Mariusz, called Marian by his friends. He used to be a young, energetic man and a talented historian. The idyll ended when he suddenly had to face two diseases.
2013 | Documentary film directed by Piotr Janiszewski
He repeatedly tried to undergo a treatment and fight the addiction. Will he win this time? Is he ready to go back to normal life?
Main character: Mariusz Waszczak
Directed by: Piotrek Janiszewski
Director of photography/editing: Piotrek Janiszewski
Artistic supervision: Andrzej Titkow
Music: Leszek Wypych
Cooperation and help: Magdalena Szwajlik, Jolanta Janiszewska
Producer: Leszek Kopeć, Gdyńska Szkoła Filmowa 2013